Welcome to the website of the
TOURISM DEVELOPMENT CORPORATION!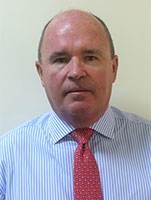 Martin Ince
Chairman
Over the past several decades, Barbados' tourism industry has thrived not least of all because of our remarkable scenery, beautiful weather, awe-inspiring beaches and vast array of activities for a range of visitor preferences. To make a visit to Barbados even more enticing, we add to this list of incentives, a well-established international reputation as a safe and friendly tourism destination.
We must be wary, however, of taking this incredible opportunity of tourism for granted and losing sight of exactly how dependent all Barbadians are on its continued existence, especially as other major income earning sectors in Barbados face serious challenges.
The Tourism Development Corporation (TDC), established as a non-profit organisation in 1987 under the Companies Act Cap. 308 of the Laws of Barbados, offers public-spirited, commercial enterprises an excellent opportunity to contribute to the positive growth and sustainability of the Barbados tourism industry. By harnessing the ideas, expertise and financial resources of the private sector, TDC provides grant sponsorship to qualified, results-oriented initiatives that enhance the local tourism product and increase foreign exchange earnings.
TDC works in close collaboration with industry stakeholders such as the Barbados Hotel & Tourism Association and the Barbados Tourism Authority among others, to respond promptly to the industry's needs. Our role as a financial contributor to the overall development of the island's tourism industry is supported by the Government of Barbados, who encourages businesses to contribute to the organisation by allowing members to claim 100% of their annual contribution as an expense for corporate income tax purposes.
TDC also has a 'Special Projects' facility that allows non-member organisations to contribute funds towards specific tourism-related projects supported by the TDC and benefit from the 100% tax credit.